23.11.2020
Contactless Payments: Advantages and Disadvantages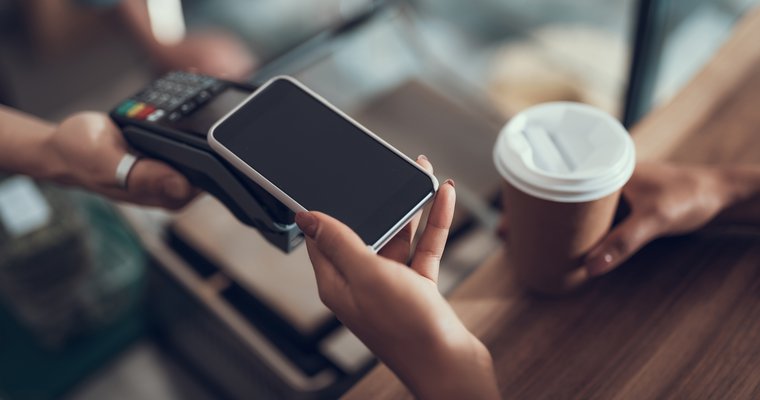 Nowadays it is difficult to surprise someone by paying with a card without touching the terminal or by paying with a phone, watch or bracelets. Technological progress moves forwards, and the payments industry offers new ways to pay for goods and services. Contactless payment methods allow you to pay by a card or a mobile device without touching the POS terminal. This way of payment takes place in a few seconds and secures your card details. However, are there any disadvantages in making contactless purchases?
1. What is a contactless payment?
Contactless payment operates on near field communication (NFC) technology. It uses radio frequency identification (RFID), and devices communicate with the payment reader when they are within centimetres of the POS terminal. When you tap or wave your device over the payment reader, payment information is transmitted through RFID.
This technology was designed to be a quicker payment method than chip and PIN (personal identification number) payments or swiping and signing. It comes in different forms including credit and debit cards, smartphones and other devices, including wearables (watches, rings). Payments are enabled via secure contactless systems such as Samsung Pay, Apple Pay, Google Pay, Fitbit Pay, or any bank mobile application that supports contactless.
In this article, we will outline the advantages and disadvantages of contactless payment technology that both consumers and business owners need to be aware of.
2. What are the advantages of contactless payments?
Contactless payment solutions offer a range of advantages to businesses and individual end-users:
- Ease of Use and Increased Operational Efficiency
Quicker transactions and shorter queues at the checkout are the most significant advantages of contactless payment. Handling cash is not a concern at the checkout. You also don't have the hassle of punching in your PIN. From a business and customer point of view, the entire process is easy and quick thereby saving both parties some precious time.
- Enhanced security
Contactless technologies are more secure than other payment modes such as magnetic stripes. When all your bank information is stored on a magnetic stripe, it makes it easy for hackers to steal your bank information and make fraudulent charges.
- Better customer experience
Studies have shown that businesses offering contactless payment facilities provide a smoother and quicker checkout experience to the customers, hence earning their loyalty. Stores can also optimise their loyalty programs and improve customer relationships.
- Variety of features
Since contactless payments are supported on smartphones, all the smartphone features become available. This includes biometric authentication, remote deactivation, pin protection, virtual card provisioning, loyalty programs pushed to the phone etc. Smartphones also provide opportunities for innovation and addition of new features.
- Hygiene
Hygiene is also important, especially in pandemic situations. Retailers don't typically sanitize card terminals between customer usage, and as a result, germs can be transferred from one person to the next as they engage with the payment hardware. With contactless payments, customers never touch the terminal or PIN pad. Instead, they only make contact with their card or mobile phone, isolating any germs and decreasing the likelihood that it will spread to the next customer.
- No Additional Fees
Merchants who accept contactless payments are not required to pay any additional fees to card companies. They are only required to install suitable card readers.
3. What are the challenges of contactless payments?
Despite the advantages that contactless payment solutions offer users and businesses, technology can give rise to a few concerns. New innovations are being able to address most of these concerns today. But just as an overview, here are a few challenges:
- Not as widely accepted
Like most technologies, for contactless payments to work, it requires both parties to invest in a set-up. If retailers or POS systems do not have the solution integrated with current payment systems, end-users won't be able to use the facility even if they have their part set up. Spotty network coverage at the time of payment can also turn out to be deterrent, especially in urgent or critical situations. There can also be technological barriers to adoption because users need to have an NFC compliant smartphone to be able to use these tap-to-pay systems.
- Lower transaction limit
To limit misuse and fraud, most banking and financial institutions who offer contactless payment facilities will ensure a maximum payment limit to it. In most cases, limits for card payments and net banking will be higher and that of contactless payment modes much lower.
- Security concerns
Since the transaction with a contactless card does not need any PIN authorisation, there is a fear of fraudulent purchases in the event of it being lost or stolen. However, new payment solutions are constantly upgrading their features and offerings to enhance the end-user experience and reduce customer and business doubts.
Concluding Remarks
There are many contactless payment benefits, whether you're a customer or a business trying to make payments easier for your customers. Despite the above-mentioned issues, more and more businesses have started accepting contactless payments and millennials are heavily relying on contactless payments through wallet apps. Due to the convenience and speed offered, contactless payments seem to be the norm for both current and future payment systems.